MC GILL UNIVERSITY HEALTH CENTER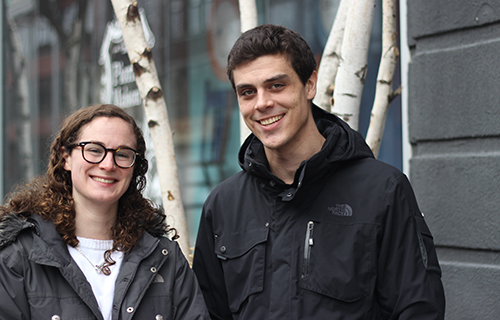 What's love if it's not meant to be shown? What is life if it's not meant be shared?" asks Katherine, who donated a kidney to her brother Daniel.
On National Organ and Tissue Donor Awareness Week – April 18 to April 25 – a young man and his sister look back on the operation that changed their lives.
"It's nothing short of a miracle," says 29-year-old Daniel Paradis as he reflects on the live donor kidney transplant at the McGill University Health Centre (MUHC) that spared him dialysis and greatly improved his quality of life. In April 2014, Daniel was told by his doctor that he would need a kidney transplant soon. After 10 years living with IgA nephropathy, a rare degenerative kidney disease also known as Berger's disease, Daniel's health was declining: he wasn't responding well to medication and his kidney function was below 20 per cent and diminishing day by day. For Daniel, dialysis was around the corner.
"I always thought a transplant was something in the future, but I never expected it to happen at that point in my life," says Daniel, who's a video editor and host for a YouTube channel. "After I told my friends and family, we started figuring out who could be my donor."
Continue reading
_________________________________________________________
You have the power to SAVE Lives
Please register as an organ, eye and tissue donor today.
Donate LIFE California | Done VIDA California
Organ Donor | Donate Life America
...to ensure donation happens, please share your donation decision with your family. At stake is the legacy you plan to leave.