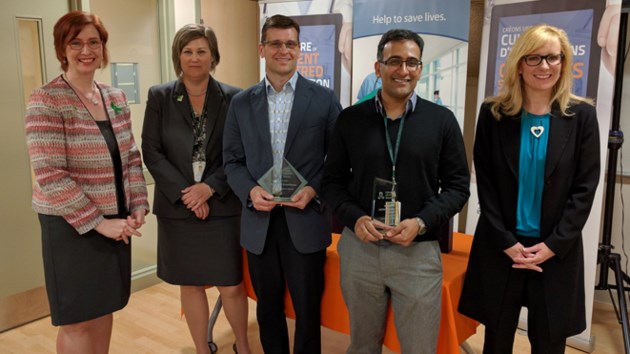 Janice Beitel, director of hospital programs with the Trillium Gift of Life Network; Pam Nicholson, Trillium Gift of Life Network co-ordinator at Health Sciences North; David McNeil, executive lead for organ and tissue donations at Health Sciences North; Dr. Bhanu Nalla, medical lead, for organ and tissue donations at the hospital; and Nancy Griffin, a community advocate for organ and tissue donation, reveived two awards on behalf of Health Sciences North for its efforts to promote organ donations in the community. Photo by Jonathan Migneault.
SUDBURY

Health Sciences North has received two awards for its advocacy and achievements in organ and tissue donation in Ontario.

The awards were presented to the hospital May 13 by Trillium Gift of Life Network, which promotes and co-ordinates organ and tissue donation and transplantation across Ontario.

Health Sciences North received the Hospital Achievement Award – Provincial Conversion Rate. Conversion rate refers to the percentage of actual organ donors achieved from the total number of potential eligible organ donors. The target conversion rate for Ontario hospitals is 67 per cent. Last year, Health Sciences North achieved a conversion rate of 91 per cent, one of the highest rates in Ontario.

The Trillium Gift of Life Network Award of Excellence is given to hospitals that meet or exceed the provincial target for conversion rates in four or more consecutive years. Health Sciences North is one of only three hospitals in Ontario to receive this award. Continue reading

_______________________________________________________________________
You have the power to SAVE Lives
Please register as an organ, eye and tissue donor today.
Donate LIFE California | Done VIDA California
Organ Donor | Donate Life America
...to ensure donation happens, please share your donation decision with your family. At stake is the legacy you plan to leave.