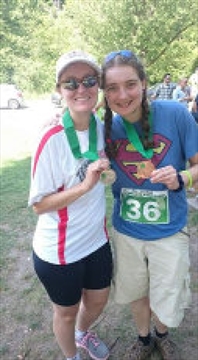 Jessica Bailey, right, won a bronze medal in the five-kilometre bike race at the Canadian Transplant Games. Andrea Clegg won a silver
medal.
THE RECORD | Jeff Hicks

Jess Bailey, 31, says her kidney just turned 23.

"It had its birthday last week," said the third-generation mechanical engineer from Kitchener as she limbered up for the speed walking event on Toronto Island on Wednesday morning as the weeklong Canadian Transplant Games continued.

"And yes, I do give presents."

This year, she got a cool light for the backyard to celebrate the kidney a deceased organ donor gave where when she was eight. Her anxious year as a child on dialysis is a fading memory, like the ear-nose-lung infections that snuck downward and destroyed her own kidneys.

She once took a "gazillion handfuls" of pills daily to keep her body from rejecting the new organ. These days, two decades later, she grabs just a single handful in the morning and a couple of pills at night, while guzzling lots of water every day.

Then, with husband James rooting for her, she seizes the handlebars that guided her to a bronze medal in a 5-kilometre bicycling event at her first transplant games on Tuesday. Continue reading
_______________________________________________________________________
You have the power to SAVE Lives
Please register as an organ, eye and tissue donor today.
Donate LIFE California | Done VIDA California
Organ Donor | Donate Life America
...to ensure donation happens, please share your donation decision with your family. At stake is the legacy you plan to leave.