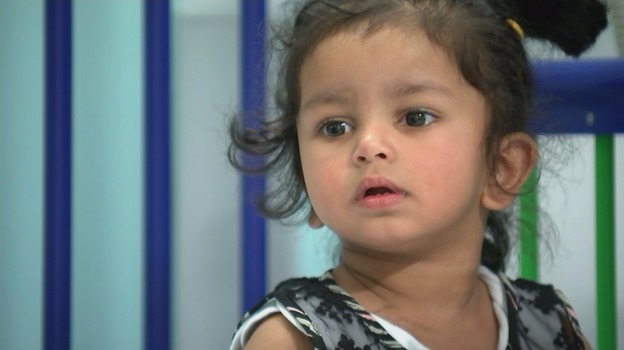 ITV NEWS

Meet two-year-old Monica Nar - one of the youngest children in Britain waiting for an organ transplant.

Monica was born with kidney failure and has to undergo four hours of dialysis three times a week to filter the waste products from her blood.

Her father Sanji Nar was told he wasn't a suitable living donor - so the family must wait for a donor kidney.


157

Children in the UK waiting for an organ transplant.
Monica has been on the transplant list for eight months.

In the UK last year, 15 children died before a suitable donor could be found.

This is despite 22.6 million people having signed up to the NHS Organ Donor register.

Mr Nar told ITV News a transplant would give Monica - "a life that she's never had."

"It would be like having a new born baby again and then having her live her life from then and have a life like a normal child," he said.

22.6m

People signed up to the NHS Organ Donor Register.

While dialysis works in the short-term, Dr Stephen Marks from Great Ormond Street explained that the long lasting effects are still there. Continue reading
_______________________________________________________________________
You have the power to SAVE Lives
Please register as an organ, eye and tissue donor today.
Donate LIFE California | Done VIDA California
Organ Donor | Donate Life America
...to ensure donation happens, please share your donation decision with your family. At stake is the legacy you plan to leave.