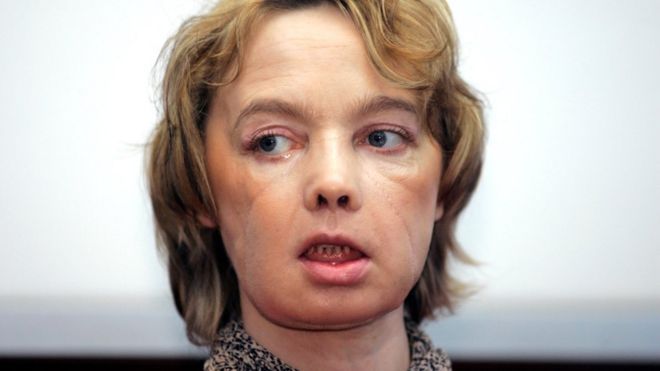 Ms Dinoire in 2006 after her operation
BBC NEWS | Tom Spender

She underwent the world's first face transplant in 2005 and later said her donor had "saved her life" - but the transplant may also have shortened it.

Isabelle Dinoire died in April aged 49 of cancers that spread all the more quickly because of treatment to prevent her body rejecting her new face.

She had the transplant after being left disfigured by her pet labrador, which gnawed off her nose and lips while trying to revive her after a suicide attempt.

Nadey Hakim, who helped treat Ms Dinoire, says she would have been aware of the risk.

"It's a known fact that whoever is transplanted is more likely to be prone to cancer, not in the organ that has been transplanted but any cancer," said Mr Hakim, now professor of transplant surgery at Imperial College London.

"If you are on immunosuppressants, you are not going to fight cancer the same way. It will spread and multiply much quicker than if you have the policeman around to stop it."

_______________________________________________________________________
You have the power to SAVE Lives
Please register as an organ, eye and tissue donor today.
Donate LIFE California | Done VIDA California
Organ Donor | Donate Life America
...to ensure donation happens, please share your donation decision with your family. At stake is the legacy you plan to leave.