UNIVERSITY OF CALIFORNIA | Amy Albin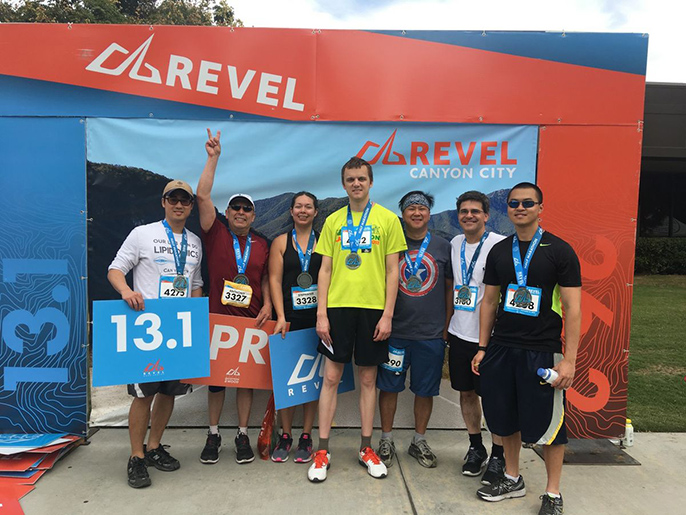 Credit: UCLA. Tony Flores makes a victory sign as he stands at the finish of the half-marathon with his daughter, doctor and heart-failure researchers from UCLA, who ran to support Flores' efforts.
Running 13.1 miles may seem like a daunting task to many people. But for heart transplant recipient Tony Flores, it was pure joy to finish the Revel Canyon City Half Marathon in Azusa on Nov.12.

It was a happy occasion that he shared with his physician, Dr. Martin Cadeiras, an assistant professor of cardiology at UCLA, and four UCLA heart-failure researchers, all of whom completed the race with Flores.

Following two heart attacks and a diagnosis of cardiomyopathy in 2013, Flores underwent a heart transplant surgery at Ronald Reagan UCLA Medical Center in August 2014.

Since he had completed five Los Angeles marathons before he got sick, the 60-year-old Glendora resident started running again after his recovery as a way to exercise his new heart. Continue reading
___________________________________________________________________
You have the power to SAVE Lives
We are asking you to register as an organ, eye and tissue donor today.
Donate LIFE California | Done VIDA California
Organ Donor | Donate Life America
To ensure donation happens, please share your decision with your family. At stake is the legacy you wish to leave