THE RECORD | Johanna Weider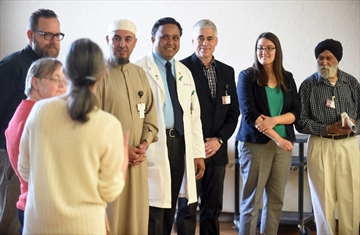 Organ transplant panel

David Bebee,Record staff,

Heart recipient Janet Parr, foreground, speaks to, from left, heart recipient Pam Ditner; Cambridge Memorial Hospital orthodox priest and spiritual care worker Christopher Rigden-Briscall; Imam Abdul Memorial Hospital; Cambridge Memorial chaplain Rob Heinz; Barbara Edwards, hospital development co-ordinator; and Chattar Ahuja of the Golden Triangle Sikh Association.
CAMBRIDGE — Making organ donation more common is an evolution of science and faith.

New technology and techniques allow for more successful transplants, and more religions are embracing the life-saving practice.

"We are all one. It doesn't matter what we believe in," said Chattar Ahuja of the Golden Triangle Sikh Association.

Ahuja was speaking at Cambridge Memorial Hospital on Thursday morning, part of a panel discussing different religious perspectives on organ donation.

This is National Organ and Tissue Donation Awareness Week.

"One of the greatest acts of humanity is to save another person's life, and organ donation gives us that opportunity," said Dr. Iqbal Biswas, physician lead for the hospital's organ donation committee.

Currently in Ontario, there are more than 1,500 people waiting for an organ transplant.

"Every day, their life is at risk," Biswas said.

Ahuja said serving humanity is a fundamental value of the Sikh religion.

"It's important to serve humanity in whatever way we can," he said.

Although in the past there was distrust around organ donation and who benefitted, things are changing. Continue reading
___________________________________________________________________
You have the power to SAVE Lives
Register as an organ, eye and tissue donor.
Social Media Declaration
: #OrganDonor
To ensure your gift of life is honored, please share your decision with your family. At risk is the legacy you wish to leave
.
___________________________________________________________________