KIRO 7 | Michelle Millman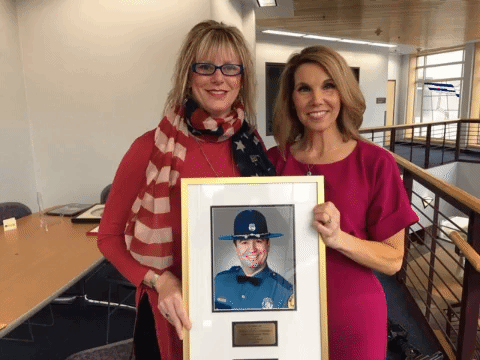 Gina Miller, Radulescu's girlfriend and KIRO 7 anchor Michelle Millman with a photo of Trooper Tony Radulescu.
It's been nearly six years since Washington State Patrol Trooper Tony Radulescu was shot and killed during a traffic stop in Gorst, near Bremerton.
Those who honor him remember his smile, his "larger-than-life" personality and his desire to help others.
Even after his death, Trooper Tony is still giving back to the community thanks to his status as an organ donor.
"He's my hero," said donor recipient Deborah Strych, who received one of Radulescu's corneas in a transplant. "I'm thankful everyday for his gift to be able to see."
Strych was living on her own when she gradually started going blind.
She struggled at her job as a nurse practitioner and started having trouble doing everyday things, like driving at night, reading on a computer and taking care of her patients.
__________________________________________________
You have the power to
SAVE
lives. Register as an organ, eye, and tissue donor
Go to:
RegisterMe.org
| Social Media Declaration: #
OrganDonor
To ensure your gift is honored, share your donation wishes with family and friends
__________________________________________________